The temple " St.Dimitar " Bulgarian Eastern Orthodox Church is under the spiritual and administrative jurisdiction of the Diocese of the Bulgarian Orthodox Church in the U.S., Canada and Australia..
By God's mercy and grace, and with the blessing of the Holy Synod of the Bulgarian Orthodox Church we are under the watchful and Christ-loving spiritual administration of His Eminence Iosif Bishop of the United States, Canada and Australia, whose God-wisdom we pass on the conservation of ancient teachings of the Holy Orthodox faith in our church.
Publishing his short biography, we beg his assiduous prayers for us before God's throne and kissing his Arhipastor right hand, we remain faithful to him Lord's spiritual servants and humble fans.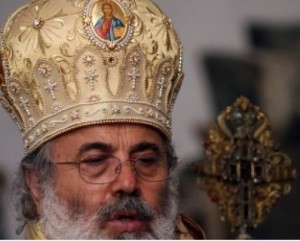 His Eminence Iosif, Bishop of the United States, Canada and Australia (secular name Ivan Bosakov) is a Prelate of the Bulgarian Orthodox Church.
Bishop Iosif was born in the village of Slavovitsa, Pazardzhik county, on December 6, 1942. From 1956 to 1961 he was a student at the Sofia Seminary. He graduated from the Theological Academy in 1970. In the same year he was ordained as monk by the Bishop of Lovech Maxim (current Bishop of Sofia and the Bulgarian Patriarch) in the Troyan Monastery, and then he was ordained as a priest by bishop Maxim and drawn in as a coadjutor in Lovech.
When Bishop Maxim became Patriarch of Bulgaria, he took him as a coadjutor in Sofia. His Eminence Bishop Iosif specialized in Moscow on October 10, 1971. On July 21, 1973, after defending a doctoral dissertation, on the blessing of His Holiness the Bulgarian Patriarch Maxim, Hieromonk Iosif was elevated to the rank of Archimandrite by His Holiness Patriarch of Moscow and All Russia Pimen. He received Episcopal hyrotonia in 1980, For a short period he was the abbot of the Troyan Monastery, and then – a vicar in Sofia.
In 1983 he was appointed as an administrator of the Akron diocese in the United States, and in 1989, when he was 47, he was elected Bishop of the restored American-Australian diocese. His headquarters is in New York, U.S., and the bishop's viceroyalty are in Toronto (Canada) and Melbourne (in Australia).
Clergy:
The Very Reverend Valery Choumarov – Bishop's Vicar for Canada