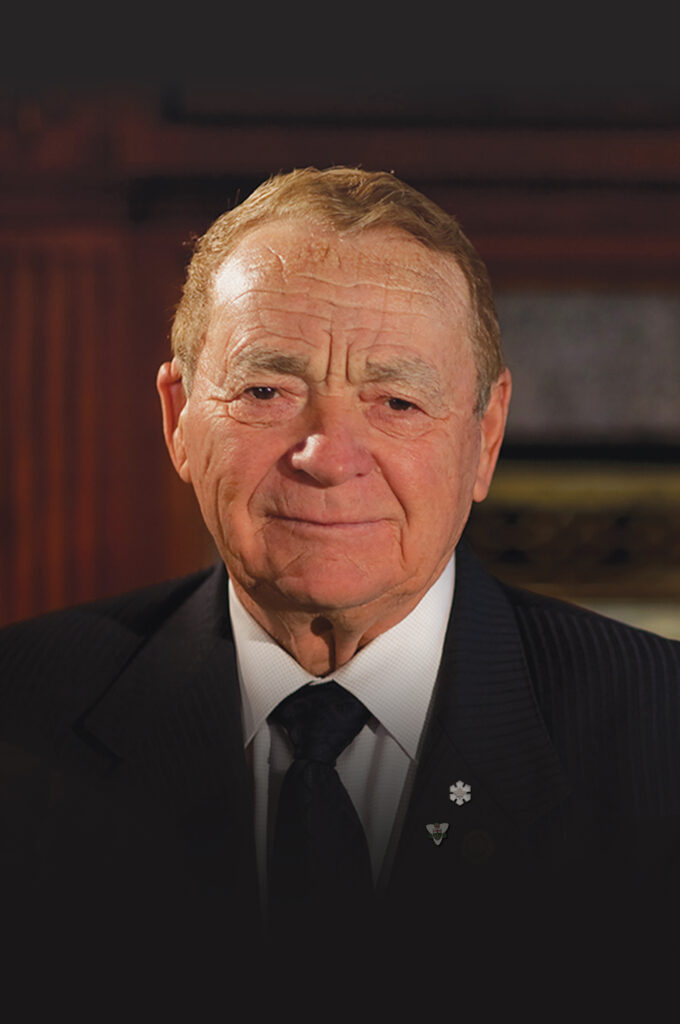 It is with profound sorrow that the family of Ignat "Iggy" Kaneff announces his passing on 12 July at the age of 93. The Bulgarian-born real estate development and construction leader whose philanthropic and civic
contributions earned him his country's highest honours died peacefully of natural causes at his home, surrounded by his family. He will be missed deeply by his wife, best friend and the love of his life, Dimitrina (Didi), his children, Anna-Maria (Michael) and Kristina (Jean) and his granddaughters, Ignatia and Emmanuelle as well as his daughter Heidi, his son, Daniel, who predeceased him, their children, Jessica (Marco) and Katarina, respectively, and three great grandchildren. He also leaves his brother, Simeon, along with many nieces and nephews, all residing in Bulgaria.
Iggy's life story was an extraordinary one but was, at its core, a quintessential Canadian immigrant success story. Born in 1926 in the agrarian village of Gorno Ablanovo in northeastern Bulgaria, the middle son of seven children, he was sent to Austria at 14 to work in a vegetable market garden to support his family during the Second World War when Bulgaria was politically aligned with Germany. During his ten years in Austria (then, Germany), despite supporting his family financially, he succeeded in starting his own market gardening business. He left for Canada in 1951 after learning that the Bulgarian Communist regime was repatriating expatriates. Unable to leave Austria with the proceeds of the sale of his business, he sold it to the Bulgarian anti-communist government in exile, expecting payment upon arrival in Canada. Instead, circumstances forced him start his new life penniless. He supported himself by washing cars, dishes and floors while living in a garage during the first few months after his arrival to Canada. He soon found construction work in the
Lakeview area of Mississauga with the Shipp Corporation. While he lacked a formal education and English language skills, he fondly relayed later that neither was needed to push a broom or lift blocks weighing 140
pounds (a feat for a man weighing 130 pounds and standing tall at less than five and a half feet). He was exceptionally hard working and as a result, within a year of arriving to Canada, managed to save enough
money to quit his job, buy a lot and build his first house. He founded Kaneff Construction in 1956, capitalizing on the post-war suburban housing boom, later expanding into high-rise tower construction and eventually into
commercial property developments. He is credited with shaping Mississauga and Brampton's downtown skylines through his signature iconic tall white towers built at breakneck speed in the 70s and 80s. His name is also widely recognized in the golf industry for having raised the standard of publicly available golf in the 90s with the opening of Lionhead Golf Club & Conference Centre.
Iggy Kaneff's real estate development legacy is matched only by his vast philanthropic deeds. His $2,000 gift to the future Mississauga hospital in 1955, the then-largest by an individual, sparked 65 years of a genuine and
sustained commitment to philanthropy. Personally, and later through the I. Kaneff Charitable Organization, founded by his wife in 1986 in honour of his 60 th birthday, he and his family donated what would now amount
to tens of millions to various educational, civic, sports and health organizations. On account of his involuntarily curtailed education, he had a strong attachment to universities, and also to organizations helping individuals with intellectual disabilities, most notably Community Living. The University of Toronto, York University, Osgoode Hall Law School and Ruse University in Bulgaria were among the countless recipient organizations. In recognition of his many business achievements and philanthropic contributions, he was awarded the Order of Canada and the Order of Ontario. He received three Doctor of Laws degrees (University of Toronto, York University and Ruse University in Bulgaria) and an honorary degree from Sheridan College, Mississauga. Among many awards, he was named Businessman of the Year for Mississauga and Brampton, Mississauga
Citizen of the Year and received numerous others in Canada and Bulgaria, including Queen Elizabeth II's Diamond Jubilee Medal, the Canada 125 Medal, the Federation of Rental-Housing Providers of Ontario Lifetime Achievement Award, and the Order of Stara Planina, Bulgaria's highest civilian honour.
A special quality was Iggy's ability to inspire, support, push and encourage those around him to reach higher and accomplish more. He genuinely cared about people's life journeys, having been a self-taught, lifelong
student of history and geopolitics. He was a voracious reader, an avid golfer, a lifelong optimist, and he credited working hard, having integrity and helping others along his journey as his secrets to success. He was
as proud a Canadian as can be, a man of God, passionate about Bulgaria and a deeply devoted family man.
In lieu of flowers, donations may be made to Trillium Health Partners (formerly Mississauga Hospital) where Iggy made his first important charitable gift. Iggy will be buried in a private funeral service at Glen Oaks
cemetery. Public visitations will be held on Wednesday 15 July and Thursday 16 July from 4-9pm at Lionhead Golf Course & Conference Centre in Brampton.